Holidays with Enya
Listen to songs by Enya for free with Amazon Music Unlimited trial.
Home

›
The Very Best of Enya (compilation)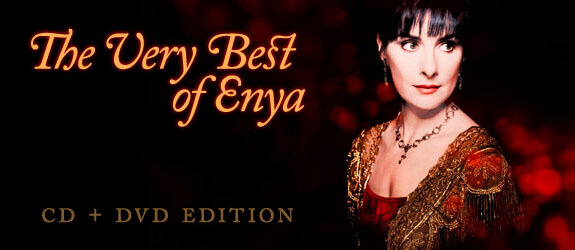 The Very Best of Enya (2009)
The Very Best of Enya is the title of the latest Enya collection, released on November 20th.
The album include songs from all her albums, chosen by Enya, Nicky and Roma. A special edition contain DVD and documentary footage.
Text by Enya on the compilation
At one time or another nostalgia plays a part in all of all our lives, and when Warner Music asked me to choose songs that are particularly dear to me l based my choice on memories and emotions evoked by those songs.
'Orinoco Flow', for example, reminds me especially of Rob Dickins, who was fiercely dedicated to his role in WEA and could have written the definitive book on popular music. Rob was so determined to get things right that he actually went to the record stores to watch the queues of people asking for 'Sail Away' when the title of the song was, of course, 'Orinoco Flow'. Rob immediately sent out instructions to add the bracketed title of Sail Away underneath 'Orinoco Flow' on the single cover. Robs knowledge of the business was incredible, his acumen unmatched at the time. Nicky, Roma and I all remember Rob's tremendous energy and it is without doubt that because of him our efforts were so greatly rewarded.
Thank you Rob.
'Boadicea', a track from the BBC documentary The Celts is a particular favourite of mine, mainly because of its simplicity. Many years after we recorded 'Boadicea', it caught the attention of a certain genre of rap artists. This began with the Fugees and their amazing adaptation 'Ready Or Not' though Mario Winan took it to another level in his beautiful rendering of 'I Don't Wanna Know'. This song was produced by Sean 'P Diddy' Combs, who made the initial approach to us. Nicky asked him to return the favour sometime, he graciously agreed, and knowing Nicky, Mr Combs will be getting a call one day.
'Only Time' and 'Fallen Embers' have a particular meaning for me, and bring the awful memories of 9/11 flooding back as l remember the victims and the brave New York firemen — so many of whom lost their lives saving others. What can l say that has not already been expressed, it was the saddest time.
It was May 2005 when Roma received a call from the Dept of Foreign Affairs of Ireland to tell us that their Majesties, the Emperor and Empress of Japan, requested my presence at the Mansion House in Dublin because they wished to meet me. Meeting them was a particular highlight of my career which I always cherish. 'Sumiregusa' reminds me of that time and the incredible beauty of Japan, my many visit there — courtesy of Warner music Japan — and of course my wonderful and loyal Japanese fans.
Such was the secrecy around Peter Jackson's work on The Lord of the Rings that Nicky, Roma and I had to travel across the world to New Zealand on a 23 hour flight for special viewing of the glorious, unfinished, uncut version of this epic film. We watched the film behind locked doors, only the three of us in the full sized Cinema. Peter and his wife Fran Walsh, made us feel so welcome and it was such a pleasure to be part of this historic Movie. Peter surrounded himself with great artists and friends who worked on every aspect of the project, and we were brought on a tour of the impressive Weta Workshops by the supremely talented Richard Taylor and Tanya Rodgers. What a wonderful experience for the three of us! It's here that I would like to mention 'Aniron', a song that has never been released in its full version until now, and of course 'May it be' which brought us our first visit to the Oscars, and hopefully not our last.
It has to be described as one of the most romantic of requests to be asked to perform at a King's birthday; the King of Sweden's birthday, no less. I sang 'Anywhere Is' with the support of twelve of the King's drummers in full military attire, playing their snare drums in perfect time to the song.
The King and Queen are very charming friendly people and it was such an honour to be asked to perform for him, especially in the Company of the great Stevie Wonder who sang what else but, 'Happy Birthday'. 'Anywhere Is' was also the song I performed at a special concert for Hiss Holiness Pope Paul II, at his private theatre in the Vatican. The day after Nicky and I met with him in a private audience. A man of great charisma, which was evident from the moment he walked into the room.
'Watermark' takes me to the time I met Princess Diana, who shared a moment with me. She glowed with charm and warmth and simply radiated beauty. 'Watermark' is the connection here and we donated this track to the CD 'Diana — Princess of Wales — Tribute' a compilation album where all the artists involved donated to the charitable trust fund set up in Princess Diana's memory.
Finally, I remember too, all those in Warner Music throughout the world who worked so hard on my behalf and were very much a part of the success we enjoy. We delivered the songs, but Warner Music brought them to the entire world.
Enya on The Very Best of Enya Collector's Edition
Release dates
Germany, Italy, Switzerland, Ireland: November 20th
UK and rest of the world: November 23rd
Brazil: November 27th
US: December 1st
Japan: December 2nd
Lyrics list
CD format
Watermark (Instrumental)
Boadicea (Instrumental)
A Day Without Rain (Instrumental)
CD + DVD format
Drifting (Instrumental)
Watermark (Instrumental)
Boadicea (Instrumental)
Credits
All vocals by Enya
Arranged by Enya and Nicky Ryan
Engineered by Nicky Ryan
Digital Technical Advisor: Daniel Polley
Master cut by Beetham of 360° Mastering, London
Art Direction and Design by Peacock
Photography by Simon Fowler, David Scheinmann, Russel Young and Max Adelman
Lettering by Ruth Rowland
Published By EMI Music Publishing Ltd.