Roma and Nicky Ryan
Roma Ryan wrote the lyrics of most of Enya's songs. Her husband, Nicky Ryan, is Enya's music producer.
As a musical group, Enya is a collaboration between three people: Enya herself, who composes and performs the music; Nicky Ryan, who produces the albums, and Roma Ryan, who writes the lyrics in various languages. The three of them have been working together since the beginning of Enya's career in 1982.
Enya is more than just me. It's also Nicky, who arranges my melodies, and his wife Roma, who writes the lyrics. They believed in my music from day one

Enya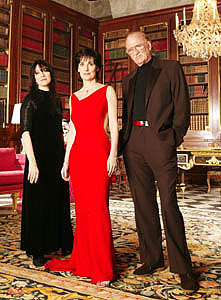 Roma Ryan, Enya and Nicky Ryan.
Roma Shane Ryan (born 20 January 1950 in Belfast) is a Northern Irish writer, poet, and lyricist, currently living in Artane, Ireland. Nicholas Dominick Ryan (born 1949) is an Irish music producer, recording engineer, and manager. Born and raised in Dublin, Nicky Ryan gained initial recognition in the 1970s and 1980s for his work with several artists including Gary Moore, Planxty, Christy Moore and Clannad.
In 1982, the Ryans left Clannad and formed a partnership with Enya after the latter wished to pursue a solo career, with Ryan her producer and arranger and Roma her lyricist. For the next two years, Enya lived with the Ryans who then lived in Artane, a northern Dublin suburb while she practiced her music skills and recorded a selection of demos. In September 1983, the three became directors of their music company Aigle Music, with "aigle" being the French word for "eagle". Using a mixing board originally made for Clannad, the three constructed a home recording facility and named it Aigle Studio. In the video documentary Enya - A Life in Music, Enya states that it was Nicky who first had the idea of layering Enya's voice, thus creating Enya's distinctive style.
Roma is the primary lyricist for Enya. Her lyrics have won Grammy awards; the song "May It Be" for the The Lord of the Rings film The Fellowship of the Ring was nominated for an Oscar.
Her lyrics can be heard in films such as The Frog Prince (1984), Green Card (1990), L.A. Story (1991), Toys (1992), Cry, the Beloved Country (1995), and Reisei to jônetsu no aida (2001), all of which feature Enya's music.
In 2005, Roma created a new language known as Loxian, inspired by J.R.R. Tolkien's Elvish language, for Enya's album Amarantine. She wrote a book describing Loxian, called Water Shows the Hidden Heart.
Roma and Nicky have two daughters, Ebony and Persia, who also contributed with artwork and layout to Enya's 2005 release.