Roma and Nicky Ryan
Roma Shane Ryan (born in Belfast, Northern Ireland) is a writer, poetess, and lyricist, currently living in Artane, north Dublin, Ireland, with her husband Nicky Ryan (born in Dublin, Ireland), who is a music producer.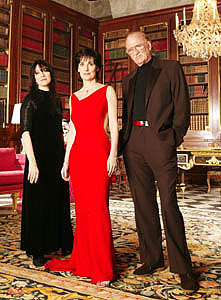 Roma Ryan, Enya and Nicky Ryan.
Nicky previously managed the Irish group Clannad, the band Enya first performed with. In 1982, when Nicky Ryan left Clannad, Enya followed him. In the video documentary Enya - A Life in Music, Enya states that it was Nicky who first had the idea of layering Enya's voice, thus creating Enya's distinctive style.
Roma is the primary lyricist for the singer Enya. Her lyrics have won Grammy awards; the song "May It Be" for the The Lord of the Rings film The Fellowship of the Ring was nominated for an Oscar.
Her lyrics can be heard in films such as The Frog Prince (1984), Green Card (1990), L.A. Story (1991), Toys (1992), Cry, the Beloved Country (1995), and Reisei to jônetsu no aida (2001), all of which feature Enya's music.
As a musical group, Enya is a collaboration between three people: Enya herself, who composes and performs the music; Nicky Ryan, who produces the albums, and Roma Ryan, who writes the lyrics in various languages.
In 2005, Roma created a new language known as Loxian, inspired by J.R.R. Tolkien's Elvish language, for Enya's album Amarantine. She wrote a book describing Loxian, called Water Shows the Hidden Heart.
Roma and Nicky have two daughters, Ebony and Persia, who also contributed with artwork and layout to Enya's 2005 release.
Browse Enya Lyrics
Return to top