Enya biography, profile and FAQ
Eithne Pádraigín Ní Bhraonáin (anglicised as Enya Patricia Brennan; born 17 May 1961), known professionally as Enya, is an Irish singer, songwriter, record producer and musician.
Enya's musical journey is rooted in her upbringing and family background. Hailing from Gweedore in County Donegal, she was born into a musical family and was exposed to the rich cultural heritage of the Irish-speaking region. In 1980, Enya joined her family's Celtic band, Clannad, where she showcased her talents on keyboards and provided backing vocals. However, in 1982, she made the decision to embark on a solo career, joining forces with Clannad's manager and producer, Nicky Ryan, and enlisting the lyrical prowess of Ryan's wife, Roma Ryan.
Over the course of the following four years, Enya honed her distinctive sound, characterized by the innovative use of multitracked vocals and keyboards. Her music seamlessly blends elements of various genres, including new age, Celtic, classical, church, and folk music, resulting in a unique and captivating musical tapestry. It is worth noting that Enya's linguistic versatility is also evident, as she has recorded songs in ten different languages, further showcasing her artistic range and multicultural influences.
For me this career and that I am privileged to do a job I love to do, means really, really much. I would never change any moment from my life. When making music I sink myself into the process as deeply as I can and forget all of the success.

Enya
Enya's first projects as a solo artist included soundtrack work for The Frog Prince (1984) and the 1987 BBC documentary series The Celts, which was released as her debut album, Enya (1987). She signed with Warner Music UK, which granted her artistic freedom and minimal interference from the label. The commercial and critical success of Watermark (1988) propelled her to worldwide fame, helped by the international top-10 hit single "Orinoco Flow". This was followed by the multi-million selling albums Shepherd Moons (1991), The Memory of Trees (1995) and A Day Without Rain (2000). Sales of the latter and its lead single, "Only Time", surged in the United States following its use in the media coverage of the September 11 attacks. Following Amarantine (2005) and And Winter Came... (2008), Enya took an extended break from music; she returned in 2012 and released Dark Sky Island (2015).
Enya is known for her privacy and has never undertaken a concert tour. She is Ireland's bestselling solo artist and bestselling artist behind U2, with a discography that has sold 26.5 million certified albums in the United States and an estimated 80 million records worldwide, making her one of the bestselling music artists of all time. A Day Without Rain (2000) remains the bestselling new-age album, with an estimated 16 million copies sold worldwide. Enya has won awards including seven World Music Awards, four Grammy Awards for Best New Age Album, and an Ivor Novello Award. She was nominated for an Academy Award and a Golden Globe Award for "May It Be", written for The Lord of the Rings: The Fellowship of the Ring (2001).
Enya was born Eithne Ni Bhraonain in Co. Donegal, Ireland. Enya studied classical music at college and under private tuition. On leaving college she was asked by Producer Nicky Ryan to join her siblings in their family band. She did so for a short time, but found it too restrictive musically, and so in 1982 she joined Nicky Ryan and Roma Ryan in a creative and business partnership. Enya's first commission was to write a score for Sir David Puttnam for his film "The Frog Prince". Then, the triumvirate secured the soundtrack to the BBC documentary series 'The Celts'. Enya was then signed up by Warner Music and all three by EMI Music Publishing.

The first album of this contract was "Watermark" with the hit single "Orinoco Flow". This was followed by "Shepherd Moons" "The memory of trees" "Paint the sky with Stars" "A day without rain" which produced the single 'Only Time' "Amarantine" and for "Lord of the Rings; the fellowship of the Ring" the songs "Aniron" and "May it be". Enya, Nicky and Roma were nominated for a Golden Globe Award and for an Academy Award for the song "May it be" and have also merited many other nominations and awards, including the Ivor Novello for International Achievement. The latest honours bestowed on Enya were two Honorary Degrees, the University of Galway honoured her with Doctor of Music and the University of Ulster honoured Enya with Doctor of Letters.

Enya's old official website
Contents
Profile
Full name: Eithne Patricia Ní Bhraonáin
Birthday: 17 May 1961
Place of birth: Gweedore, County Donegal, Ireland
Parents: Leo and Máire Brennan
Siblings: Four brothers: Ciarán, Pól, Leon and Bartley, and four sisters: Máire, Deidre, Olive and Bridin.
Mother language: Irish Gaelic
A few frequently asked questions and personal life details
Is Enya married? She wears a ring.
Enya is NOT married. The rings she wears on her hand are a Claddagh ring and a wedding band. Both of these belonged to her grandmother who has passed away.
I have never come close to being married or engaged. I was with someone eight years ago when I questioned whether I wanted the pressure of being married or having children. I always felt that if pregnancy was to happen, it would happen; if it didn't, it didn't. ... I have security, I don't need a man in my life. I don't have pets, I have two guard dogs; and I don't do my own shopping; it's a security thing....The downside of success is stalkers. I have had death threats from people with fixations who need help.

Enya
Does Enya lives alone in a castle with her cats?
In 1997, Enya bought a small Victorian castle located in Killiney, Dublin. The castle, which was built in 1840 by Robert Warren, was originally named "Victoria Castle" after Queen Victoria. Enya renamed it "Manderley Castle". The name comes from the book Rebecca by Daphne du Maurier, whose story is set in Manderley. More in Wikipedia.
I live in Victorian Gothic castle in Killiney that I was so bold as to rename Manderley, because Daphne du Maurier's Rebecca is one of my favourite books. ... People have this image of me as an ethereal Lady of Shalott, floating across the battlements, but it's a very small castle as castles go — with no big ballrooms... I don't write my music in my home, only in the studio; I want as normal life as possible at home, with dinner parties and entertaining.

Enya
Is Enya a religious person?
Enya is catholic. She sang for the Pope John Paul II, who was a fan.
For me, I've derived from religion ... what... I enjoy ... and it's to go to church, but usually ... when there's nobody else there. I just love that moment, ah, to just sit there. It's very peaceful, very calm, and very therapeutic, and it's ... wonderful.

Enya
What is Enya's musical genre?
Numerous critics and reviewers classify Enya's albums as new age music and she has won four Grammy Awards in the category. However, Enya does not classify her music as part of the genre. When asked what genre she would classify her music, her reply was "Enya". Nicky Ryan commented on the new age comments: "Initially it was fine, but it's really not new age. Enya plays a whole lot of instruments, not just keyboards. Her melodies are strong and she sings a lot. So I can't see a comparison."
Does Enya tour? Are there any planned appearances on TV, signing sessions...
Enya has done promotional tours to promote her albums and has performed in a live setting on a few television programs. She has not toured since 1980, when she toured with Clannad. And although Enya spoke about the possibility of touring in several interviews, there have never been any signs of an upcoming tour. Enya does make appearances on TV and radio: check this live performances compilation.
Even more Frequently Asked Questions below.
Musical upbringing and Clannad
Eithne Patricia Ní Bhraonáin was born in Gweedore, County Donegal, in Ireland in 1961 to a musical family, the fifth of nine children. Her grandparents were in a band that played throughout Ireland, her father was the leader of the Slieve Foy Band before opening a pub, and her mother played in a dance band and later taught music at the Gweedore Comprehensive School. Enya has four brothers and four sisters, several of whom formed the band An Clann As Dobhar in 1968. They renamed the band Clannad, which means "family", in the 1970s.
In 1980, Enya worked with Clannad, then composed of her siblings Máire (Moya), Pól, and Ciarán and twin uncles Noel and Padraig Duggan. Enya played the keyboard and provided backing vocals on their albums Crann Úll (1980) and Fuaim (1981), although she was never officially a member of the group. In 1982, shortly before Clannad became famous for "Theme From Harry's Game," producer and manager Nicky Ryan left the group and Enya joined him to start her own solo career.
I joined my family's band, Clannad , as a teenager in 1980 to sing harmonies and play keyboards, but it wasn't musically challenging for me; I felt like an outsider. ... My split from Clannad two years later caused a conflict of loyalty for a time, because I went off with their manager Nicky Ryan, who had asked me to join Clannad in the first place.

Enya
Solo career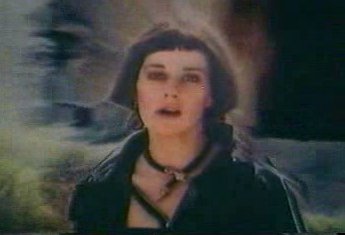 Enya in music video for "I Want Tomorrow", from the soundtrack of The Celts documentary.
Enya recorded two solo instrumental songs called "An Ghaoth Ón Ghrian" ("The Solar Wind") and "Miss Clare Remembers" that were released on the 1983 demo tape Touch Travel. She was first credited as Enya (as opposed to Eithne) for writing some of the music for the 1984 movie The Frog Prince, which was released on a soundtrack album of the same title. Another early appearance on record followed in 1987, where Enya provided spoken vocals on Sinéad O'Connor's debut album, The Lion and the Cobra. The title of the album is a partial English translation of Enya's Gaelic reading of Psalms 91:11-13 on the song "Never Get Old".
Enya is more than just me. It's also Nicky, who arranges my melodies, and his wife Roma, who writes the lyrics. They believed in my music from day one

Enya
Enya was contracted to provide music for the soundtrack of the 1986 BBC television documentary The Celts. The music she produced was featured on her first solo album, Enya (1987), but it attracted little attention at the time.
International breakthrough
Enya achieved a breakthrough in her career in 1988 with the album Watermark, which featured the hit song "Orinoco Flow" (sometimes known as "Sail Away"). "Orinoco Flow" topped the charts in the United Kingdom, and the album sold eight million copies.
The success of Watermark surprised me. I never thought of music as something commercial; it was something very personal to me... The writing of a melody is an emotional moment; success doesn't make it easy.

Enya
Three years later, she followed with another hit album, Shepherd Moons, which sold ten million copies and earned Enya her first Grammy Award. The songs "On Your Shore" and "Exile" (from Watermark) and "Epona" (from Enya) were featured in the 1991 film L.A. Story. "Ebudae" was also featured on the soundtrack to the Robin Williams film Toys, while the 1990 film Green Card had "River", "Watermark", and "Storms In Africa". "Book Of Days" was featured prominently in the movie Far and Away, featuring Nicole Kidman and Tom Cruise.
In 1992 a remastered version of the Enya album was released, called The Celts and including a longer, modified version of "Portrait (Out of the Blue)". Four years after Shepherd Moons, she released the Grammy-winning The Memory of Trees (1995).
In 1997, Enya released her greatest hits collection, Paint The Sky With Stars: The Best of Enya, which featured two new songs: "Paint the Sky With Stars" and "Only If...".
Return and A Day Without Rain
Following a five-year break, she released the Grammy winning A Day Without Rain in 2000. The album is Enya's most successful to date, peaking at #2 on the US Billboard Album charts. After the September 11, 2001 attacks, her song "Only Time" (from A Day Without Rain) was used as a backdrop in many radio and TV reports about the attacks. She initially frowned upon this use, especially when many bootlegged versions of "Only Time" mixed with sound effects from the attack began to appear.
Enya eventually released a special edition of the song with funds going to the families of victims. Many Enya fans, however, are resentful that her music has been linked with the attacks; an example of this occurred on a 2002 appearance on CNN's Larry King Live when images of battle in Afghanistan were shown on screen as she performed "May It Be," a song with little war connection, featured in The Lord Of The Ring: The Fellowship Of The Ring movie soundtrack.
There is no formula to it because writing every song, for me, is a little journey. The first note has to lift you and make you go, 'What's this?' You play C, but why is it that one day it leads to G and it didn't yesterday? I don't know. It's everything. It's the walk you take in the morning, it's the night before, the meeting with people, landscapes, the chats, all of that evolves in some way into melody, but I'm not sure how it's going to happen. I'm dealing with the unknown all the time and that is exciting.

Enya
Enya is self-admittedly a slow worker when it comes to composing music, therefore fans have had to wait as long as five years between albums. In September 2004, a new song, set to words from a Japanese poem Roma Ryan had written and called "Sumiregusa" ("Wild Violet") was unveiled in Japan as part of an advertising campaign for Panasonic. In announcing the new recording, Warner Music Japan stated that Enya's next album was scheduled for release in mid-November. Enya issued a press release on her official web site on 19 September stating that this was a mistake and no new album was immediately forthcoming.
1998–2007: A Day Without Rain and Amarantine
In November of 2005, a new album, entitled Amarantine, was released. It won the Grammy Award for Best New Age Album for 2007. In the following year, Enya released several Christmas-themed CDs with newly recorded material. On October 10, 2006, Sounds of the Season was released containing six songs: the previously released "Oíche Chiúin" ("Silent Night") and "Amid the Falling Snow", new recordings of the standards "Adeste Fideles" ("Oh Come All Ye Faithful") and "We Wish You a Merry Christmas" as well as two original songs, "Christmas Secrets" and "The Magic of the Night". Sounds of the Season was released only in the United States in an partnership with the NBC television network and the Target department store chain.
Amarantine is an ancient word, which means eternity. The poets describe an undying flower with that word, and I fell in love with that idea ... For me that word suited rhythmically to the refrain of the piece. A-ma-ran-ti-ne. In our website the fans tried to guess something super-romantic to be the album's name, but this word was obviously never guessed by anyone.

Enya
In later November two new editions of Amarantine were released. In North America, it was reissued as Amarantine - Special Christmas Edition with a second disc containing the four new Christmas songs previously issued on Sounds of the Season. The UK received a deluxe version of this release (Amarantine - The UK Special Edition) which also included three postcards and a copy of Roma Ryan's book Water Shows the Hidden Heart which is referenced on the original album. Canadian fans could choose from the Special Christmas Edition of Amarantine, or an EP entitled Christmas Secrets which only contained the four new songs.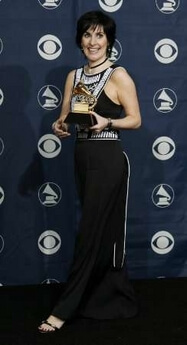 Enya in 2007 Grammy Awards.
On November 16, 2006, Enya mentioned on ITV1's that she was working on a new album. A month later, in a Japanese interview Enya said that the album would be a complete Christmas album and would be released in 2007, which led to widespread fan speculation. No release occurred at that time.
By mid-2007, Enya have sold 70 million albums. An American businessperson has coined the phrase "enyanomics" to explain Enya's ability to sell millions of records without giving any live performances.
On June 29, 2007, Enya received an honorary doctorate from the National University of Ireland, Galway. The ceremony for six total recipients was held at noon. Shortly after, on July 10, 2007, Enya received a second honorary doctorate from the University of Ulster.
Also in 2007, Enya MP3 was made availabe in Amazon.com.
Recent Releases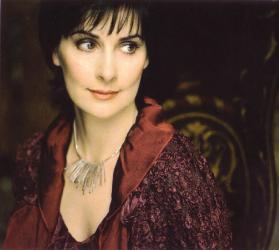 Enya in a promotional photo for the Amarantine album (Show bigger image).
Enya continued to write music with a winter and Christmas theme for her seventh studio album, And Winter Came.... Initially she intended to make an album of seasonal songs and hymns set for a release in late 2007, but decided to produce a winter-themed album instead. The track "My! My! Time Flies!", a tribute to the late Irish guitarist Jimmy Faulkner, incorporates a guitar solo performed by Pat Farrell, the first use of a guitar on an Enya album since "I Want Tomorrow" from Enya. Upon its release in November 2008, And Winter Came... reached No. 6 in the UK and No. 8 in the US[45] and sold almost 3.5 million copies worldwide by 2011.[74]
After promoting And Winter Came..., Enya took an extended break from writing and recording music. She spent her time resting, visiting family in Australia, and renovating her new home in the south of France. In March 2009, her first four studio albums were reissued in Japan in the Super High Material CD format with bonus tracks. Her second compilation album and DVD, The Very Best of Enya, was released in November 2009 and features songs from 1987 to 2008, including a previously unreleased version of "Aniron". In 2013, "Only Time" was used in the "Epic Split" advertisement by Volvo Trucks starring Jean-Claude Van Damme who does the splits while suspended between two lorries. The video went viral, leading to numerous parodies of the commercial uploaded to YouTube also using "Only Time". The attention resulted in the song peaking at No. 43 on the Billboard Hot 100 singles chart.
I felt I didn't know what to do ... I thought I needed a break, and the music needed a break ... I know it sounds like a long time, but to me, it felt like six months.

Enya
In 2012, Enya returned to the studio to record her eighth album, Dark Sky Island. Its name refers to the island of Sark, where it became the first island to be designated a dark-sky preserve, and a series of poems on islands by Roma Ryan. The new album was promoted with the premiere in October 2015 of its lead single, "Echoes in Rain", on Ken Bruce's radio show and with the release in the same month of the single as a digital download.[79] Upon its release on 20 November 2015, Dark Sky Island went to No. 4 in the UK, Enya's highest charting studio album there since Shepherd Moons went to No. 1, and to No. 8 in the US. A Deluxe Edition features three additional songs. Enya completed a promotional tour of the UK and Europe, the US and Japan. During her visit to Japan, Enya performed "Orinoco Flow" and "Echoes in Rain" at the Universal Studios Japan Christmas show in Osaka. In December 2016, Enya appeared on the RTE Christmas special Christmas Carols from Cork, marking her first Irish television appearance in over seven years. She sang "Adeste Fideles" and "Oiche Chiuin"[90] as well as her own carol composition "The Spirit of Christmas Past".
Musical style and other projects
Anytime I hear a song, it's the whole story of the song. You actually go into the moment, into that year. It's like a diary: going back to that day, where you had written it, worked on it, the life of it, the day you finished it. What you ate that day, the earrings you wore. Every song — every song is a punch in the gut.

Enya
On her 2005 album, Amarantine, Enya sings in Japanese and Loxian, a language invented by Roma Ryan. A number of Enya's songs are sung entirely in Irish or Latin, while most of her songs are sung in English. Enya has also sung songs written entirely or partially in Welsh, Spanish, French and even languages created by J. R. R. Tolkien. Enya has performed songs relating to J. R. R. Tolkien's The Lord of the Rings, including 1991's "Lothlórien" (instrumental), 2001's May It Be", and "Aníron", the last two which she composed appearing on the soundtrack of Peter Jackson's movie The Lord of the Rings: The Fellowship of the Ring.
Enya has given several live performances on various television shows, events and ceremonies, but she has yet to do a concert. She has said, though, that she would love to do it some day, and would consider it to be a great challenge.
Favourites
Movies: old black & white (Rebecca by Hitchcock)
Book: The Lord of the Rings by J.R.R. Tolkien (her favourite character is Frodo)
Music: classical (Rachmaninoff, Debussy)
"I was asked the question 'What was the first single you ever bought?' and I thought 'I have never bought a single or an album'. Even as a teenager!It's strange. I don't like listening to music. People find it hard to understand that."
Her own songs: Marble Halls, On Your Shore, Smaointe..., Fallen Embers, Amarantine, If I Could Be Where You Are
Fashion designer: Maria Grachvogel (she designed the dress that Enya wore to Amarantine launch party)
Food: Italian, French, Indian
"I don't eat red meat. I eat fish and lots of vegetables. I've been told I'm a very good cook but take forever to prepare one meal. Everything has to be absolutely perfect and nobody is allowed into the kitchen."
Drink: champagne and very dry white wine
Pets: "I don't have pets, I have two guard dogs."
"I love cats, at one stage I had 12. It was just bliss. They'd all lie around in the sun and then come up and climb around my neck."
Trivia
The asteroid "6433 Enya", discovered on November 18, 1978 by A. Mrkos at Klet, is named after her.
Enya has her own studio named "Aigle"—French for "Eagle".
Her hobbies include watching romantic black and white films, collecting artwork, reading, painting.
Awards
Enya has won four Grammy Awards for Best New Age Album to date:
Also, "May It Be", for The Lord Of The Rings - The Fellowship Of The Ring, was nominated for an Academy Award for Best Song at the 2002 ceremonies, but it lost to Randy Newman's "If I Didn't Have You" from Monsters, Inc.
She also won many other awards, like:
IRMA Awards: "Best Female Irish Artist" in 1989 and 1993.
World Music Awards: "Best Solo Irish Artist" and "Best New Age Artist" (2001); Best-selling Female Artist, Best-selling New Age Artist and Best-selling Irish artist (2002), and "Best-selling Irish artist" (2006).
Frequently Asked Question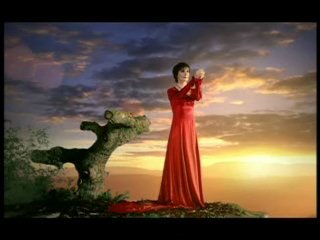 Enya in her 2005 music video "Amarantine".
Who is Eithne? How to pronounce Eithne?
Eithne is Enya's true name. Enya is phonetic spelling for Eithne (pronounced as ehn-ya). She chose to alter her name because as an artist she wanted to work under her own name, yet knew how many people would have difficulties in pronouncing her Irish name correctly.
Why do some people use Eithne and not Enya?
Eithne is generally used to refer to the woman, whereas Enya is used to refer to all three people who are involved with the music: Eithne, Nicky and Roma Ryan.
Who are Roma and Nicky Ryan?
Nicky and Roma are a married couple that have managed Enya's career since the beginning of her solo career. Nicky is the producer/arranger/manager and Roma is the lyricist. Nicky Ryan had previously managed Clannad.
Who is Clannad and what relationship do they have with Enya?
Clannad is a popular Irish family band consisting of Enya's twin uncles, Patrick Duggan and Noel Duggan, her brother, Ciaran Brennan, and her sister, Moya Brennan. Her brother, Paul Brennan, left the band in 1989 or 1990 to pursue another musical career.
Who is Moya Brennan and what relationship does she have with Enya?
Moya is Enya's older sister. Like Enya, she also has a solo career, but is still involved with Clannad these days.
Who is Aigle?
Aigle is the name of the recording studio of Enya, but also refers to the Enya, Roma and Nicky Ryan collectively and and their employees as well.
What colour are Enya's eyes?
Enya's eyes appear to be several different colors, blue, green, brown, and hazel, depending upon the different photos or videos. It is possible she may wear coloured lenses for the photo/video shoots. People generally agree Enya's eyes are probably not blue or brown, but either hazel or grey-ish.
What is her address?
Enya is highly protective of her privacy. Messages sent to her home will most likely NOT be answered or even read. Please send all your letters to Warner Music at the following address:
Enya
c/o Warner Music UK
The Warner Building
28 Kensington Church St.
London W8 4EP
UNITED KINGDOM
Enya looks so beautiful! How does she manage that? Does she have a special diet?
Most photos we see of Enya are the photos in the album booklets, or photos from magazines. As it is with all artists, Enya wears cosmetics in these photos, and sometimes the photos might be retouched to create a certain look. She rarely eats red meat, prefers fish, and likes a glass of red wine from time to time.
Does Enya really do all the instruments and vocals herself?
Yes, Enya does all of the vocals and instruments herself, except where stated. besides the piano, Enya plays some of the strings and percussions, but some of these are also synthesized.
Is all the music on Enya's albums composed only by her?
Yes, most of it. Enya did only 5 arrangements of traditional songs. "Marble Halls" is originally a piece from Balfe's opera The Bohemian Girl. "How Can I Keep from Singing?" is a traditional Shaker's hymn, and "Oiche Chiun" (Silent Night), "Adeste, Fideles" and "We Wish You A Merry Christmas" are Christmas carols.
Some of Enya's songs are not in English, what language are they?
Enya sings in Gaelic (her native tongue), English, Latin, Spanish, Japanese, Welsh, French, as well as Quenya and Sindarin, two languages invented by J.R.R. Tolkien. In her most recent album Amarantine, Enya uses a fictional language called Loxian.
Irish Gaelic: "March of the Celts", "The Celts", "Aldebaran", "Deireadh An Tuath", "Triad (St. Patrick)", "Storms In Africa", "The Longships", "Na Laetha Geal M'oige", "Oiche Chiun", "Ebudae", "Book of Days", "Smaointe", "Athair Ar Neamh", "'S Fagaim Mo Bhaile", "As Baile", "Deora Ar Mo Chroi"
French: part of "Only If"
Japanese: "Sumiregusa"
Latin: "Cursum Perficio", "Afer Ventus", "Pax Deorum", "Tempus Vernum", "Adeste, Fideles"
Spanish: "La Sonadora"
Welsh: "Dan y Dwr"
Sindarin: "Aniron"
Quenya: part of "May It Be"
Loxian: "Less Than A Pearl", "The River Sings", "Water Shows The Hidden Heart"
What is Loxian?
Loxian is a fictional language created by Roma Ryan. The language was created especially for Enya's music because Gaelic, Latin or English didn't seem to fit the particular mood of certain songs. The idea to create a fictional language was inspired by the previous use of Tolkien's fictional languages Quenya and Sindarin, used in the songs for the Lord of The Rings soundtrack. Roma Ryan has written a book called Water Shows the Hidden Heart about the how and why of Loxian.
Was that Enya I heard? Is this song really an Enya song?
Enya Lyrics lists every song that Enya has written, sung, or performed; look under the complete list of Enya songs. Be aware that several illegal sites and P2Ps networks offer songs which often wrongly attribute songs to Enya. For example, "Now We Are Free", "Gladiator Theme", "Harry's Game", and "Love Song" are often wrongly listed as Enya's music.
How many records has she sold?
Enya has sold more than 70 million albums worldwide. Her best selling album to date is A Day Without Rain which has sold more than 12 million copies. The latest release Amarantine sold over 4 million discs in its first year of sale.
On what occasions did Enya perform? Was it a live performance or lip-synced?
"Dulaman" - Live with Clannad (Celtic Folk Festival, Utrecht, The Netherlands) - 13 February 1982 (Live)
"Horo Gheallaid" - Live with Clannad (Celtic Folk Festival, Utrecht, The Netherlands) - 13 February 1982 (Live)
"Orinoco Flow" - Top of the Pops - 20 October 1988 (Lip-Synced)
"Oiche Chiuin" - Sunday, Sunday - December 1988 (Lip-Synced)
"Na Laetha Geal Moige" and "On Your Shore" - Homeward Bound - 18 May 1989 (Lip-Synced)
"Carribean Blue" - Top of the Pops - 17 October 1991 (Lip-Synced)
"Book of Days" - Top of the Pops - 23 July 1992 (Lip-Synced)
"Anywhere is" - Top of the Pops - 16 November 1995 (Lip-Synced)
"Anywhere is" - Top of the Pops - 30 November 1995 (Lip-Synced)
"Anywhere Is" - Concerto di Natale in Vatican - 1995 (Lip-Synced)
"Anywhere Is" - Hey Hey Its Saturday - during the TMOT 1996 promotional tour (Lip-synced with live percussion)
"Oiche Chiuin" - BBC1 Television Programme Christmas Day in the Morning - 25 December 1996 (Lip-Synced)
"Marble Halls" & "Only If"- The Kenny Show - 15 November 1997 (Lip-Synced)
"Only If" - Late Show with David Letterman - 1997 (Lip-Synced)
"Only If" - Royal Variety Performance - 1997 (Lip-Synced)
"Only Time" - Children in Need Fundraiser - 2000 (Lip-Synced)
"Only Time" - Pure Oxygen - 11 December 2000 (Live)
"Only Time" - Jay Leno - 2000 (Live)
"Only Time" - Live with Regis - 2000 (Lip-Synced)
"Only Time" - World Music Awards - 2 May 2001 (Lip-Synced)
"Only Time" - Larry King Live - 2001 (Live)
"Only Time" - The View - 2001 (Live)
"Only Time" - Music Fair - 2001 (Lip-Synced)
"Wild Child" - San Remo Festival - March 2001 (Live)
"May It Be" - Larry King Live - 23 January 2002 (Live)
"May It Be" - The Tonight Show with Jay Leno - 17 January 2002 (Live)
"May It Be" - World Music Awards - 6 March 2002 (Lip-Synced)
"May It Be" - World Music Awards - 6 March 2002 (Lip-Synced)
"May It Be" - Academy Awards - 24 March 2002 (Live)
Brennan Family Tribute - 13 July 2005 (Family Event) (Live)
See also: