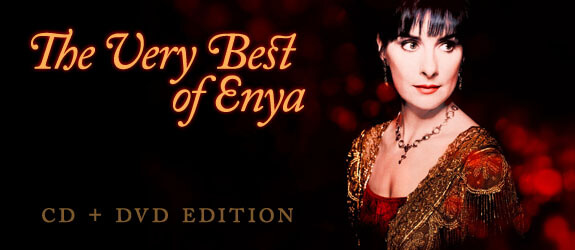 Enya One: Lyrics, songs, videos & more
Enya One features Enya's song lyrics and translations, videos, discography, biography and more!
Also: complete list of Enya songs, site search and miscellaneous page.
Who is Enya?
Enya is a Grammy Award Irish singer, often labeled as "New Age". Singing and playing all instruments by herself, she made world hits such as "Only Time", "May It Be" and "Orinoco Flow (Sail Away)". More about Enya »
Artists like Enya: Celtic Woman, Clannad (Enya's family band), Loreena McKennitt, Vangelis and Yanni.

News
Enya teases new album release
Sep 16th 2015 — Enya.com was updated today with a "coming soon" page, indicating there will be a new Enya release this year. All her social media accounts where updated as well. An audio clip from a possible new single was also revealed:
Older Enya news in our news archive. See also Enya.sk.
Browse Enya One